Entry-Level Tesla Model 3 Gets a Cheaper Version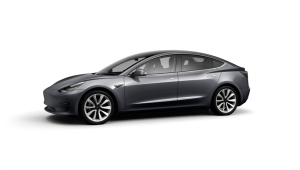 The Tesla Model 3 electric vehicle is now being offered at a lower price, thanks to the introduction of a new cheaper variant.
According to CNN, Tesla CEO Elon Musk made the announcement last week. The controversial boss of the American car brand said that the Model 3 will now start at $45,000. The cost is $4,000 below the prior introductory price of the auto.
The report noted that the electric range of the model is one of the determining factors of Tesla's pricing. With that, the upcoming cheapest Model 3 will be offered with a 260-mile electric range on a fully-charged battery.
The long-range battery with 310 miles will be reserved for the more expensive trim of the EV priced at $54,000. The $49,000-worth version of the vehicle has the long-range battery with a rear-wheel-drive system but it is no longer available.
The automaker also revealed that there will be another Model 3 trim with a standard battery pack good for 200 miles. The car will be sold for $35,000 but it won't be available in the market four to six months from now.
Those who will buy a Tesla vehicle before December 31 comes will get to enjoy a $7,500 tax credit. However, the deliveries of the new version of the Model 3 will only begin in six to ten weeks. Customers will still be eligible for a $3,750 credit though when they make their purchases from January 1, 2019, to June 30, 2019.
Despite the delayed rollout of the Model 3, Tesla assured their investors that they will realize their profits by the third and fourth quarters of this year.