EPA Chief Scott Pruitt Steps Down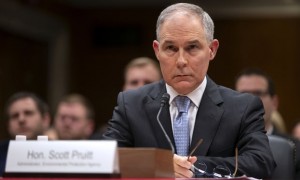 US Environmental Protection Agency (EPA) chief Scott Pruitt, who came under fire earlier for backing President Donald Trump's decision to lower the standards for vehicle emissions requirements, resigned on Thursday because of an ethics scandal.
Pruitt is favored by the President for rolling back former President Barack Obama's strict regulations on vehicle emissions. However, he is currently being investigated for travel and security expenses, as well as an expensive condominium arrangement.
President Trump said on Twitter that he has accepted Pruitt's resignation and that EPA Deputy Administrator Andrew Wheeler will become acting chief of the agency starting on Monday.
Trump said that "Within the Agency[,] Scott has done an outstanding job, and I will always be thankful to him for this."
Pruitt, a former Oklahoma attorney general, is facing dozens of investigations by the EPA inspector general, the Congress, and the White House. Reports pointed out to his questionable spending on first-class plane tickets, use of security detail, utilization of his office for favors, and connections with lobbyists and industry groups.
A separate report by The Washington Post even said that the former EPA chief pushed to find his wife a well-paying job with another politically-connected group.
The EPA's inspector general is also being asked to look into reports that Pruitt falsified his official schedule "to hide or remove" records of his meetings and discussions with industry representatives. A CNN interview with US Representatives Don Beyer and Ted Lieu, citing remarks by Kevin Chmielewski, Pruitt's former deputy chief of staff, said that Pruitt held routine meetings to "scrub, alter or remove from Pruitt's official calendar numerous records because they might 'look bad.'"
The representatives said that the allegations are being supported by an inspection of the former EPA chief's official calendar.
Pruitt became famous for revising the Obama administration's tighter standards on the model year 2022 to 2025 vehicles.