Feds Subpoenaed Tesla Records About Model 3 Production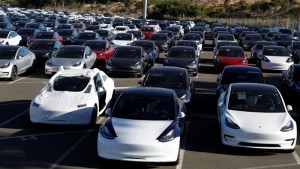 Investigators from the United States' Securities and Exchange Commission (SEC) subpoenaed information about the earlier production forecasts for the Tesla Model 3 electric car that were made last year before its distribution. Tesla admitted this in a regulatory filing last Friday.
Based on the disclosure in Tesla's quarterly financial report, the company said that the SEC asked to see records and public statements made about the predictions for the Model 3 production. The report said that Tesla is cooperating with the Justice Department in its investigation.
There have been widespread news reports that the SEC has asked to look into the records of the company regarding its Model 3 predictions. This is the first time that Tesla acknowledges the SEC subpoena though it said that it is cooperating with the Justice Department.
The Model 3 is an integral part of Tesla's plan to become a household name, to move away from the luxury-vehicle-maker tag and appeal to a broader audience. And as the company pledges to meet quarterly net profits into the future, Tesla has to find a stable cash flow, which the Model 3 signifies.
In 2017 though, the company had trouble meeting the production requirements. It draws a lawsuit from investors who believed they were misled by Tesla CEO Elon Musk about the company's production targets.
Early last year, Tesla announced that it plans to produce up to 5,000 units of Model 3 a week by the end of 2017. But because of automation problems at its Fremont, California factory, the company fell short of its target and made only 793 in the last week of 2017 and 2,700 for the entire year. It hit the 5,000-a-week target only starting June this year.
Tesla said in the filing that as far as the company knows, no government agency in an ongoing investigation has found out the Palo Alto company did anything wrong. There were no further comments from Tesla, the SEC, or the Justice Department.