Ferrari 812 Superfast is as Its Name Claims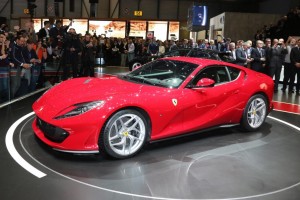 The Ferrari 812 Superfast makes its way to the 2017 Geneva Motor Show. It looks like the car definitely lives up to its name.
Engine
The 812 Superfast possesses a 6.5-liter naturally-aspirated V12 engine beneath its hood. As the name of the car implies, it is capable of producing up to 812 hp at 8,500 rpm. Its 718 Nm torque can also be reached at 7,000 rpm. The power of the auto is distributed to the rear wheels via a dual-clutch transmission.
The 812 Superfast can accelerate from zero to 62 mph in just 2.9 seconds. The top speed of the auto is around 211 mph.
Design
The 812 Superfast is the successor of the Ferrari F12 Berlinetta. Therefore, the new car carries over many styling elements found in its predecessor.
What makes the exterior of the 812 Superfast stand out against the F12 Berlinetta though is the new car's smoother shape and body lines. The cosmetic changes makes the 812 Superfast appear more balanced and have better proportions than the F12 Berlinetta. Then, the fascia of the new car gives it a more aggressive look than the model it replaced.
The 812 Superfast is inspired by the 1969 Ferrari 365 GTB/4 "Daytona" as well. The rear of the auto brings back the traditional round taillights of the classic car.
The interior of the 812 Superfast show huge improvements too. The seats of the car are revamped for a sportier setup and it offers several upgrades in its infotainment system.
What's in the Name?
Aside from the very obvious high-performance feature of the 812 Superfast, its name can be traced back to the time when Enzo Ferrari fitted a huge V12 intended to a smaller vehicle to his prototype muscle car. He would call the car the Ferrari 4.9 Superfast according to the interview of Flavio Manzoni, head of the Ferrari Design Center.
Photos
Check out the pictures of the Ferrari 812 Superfast at the 87th Geneva Motor Show in the gallery below: