First-Ever Shelby Cobra Headed For Auction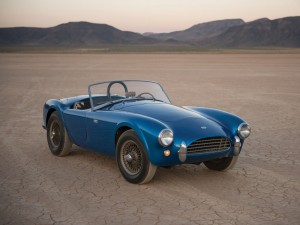 Any self-respecting car enthusiast would tell you that Carroll Shelby is one of the most influential personalities in the auto industry. And now, it looks like you can get a piece of the legend, or at least, his creation. If you've got money to spare, you may be interested to know that the original Shelby will be up for auction at RM Sotheby's Monterey Auction on August 19, according to a source.
We can now all begin wagering how much action and money this car is going to generate.
The CSX 2000 is the only car in the world created by Carroll Shelby himself, and it heralded the Shelby legacy that we still know of today. The first Cobra was created in 1962 when Shelby fitted the AC Ace with a 260-cubic-inch Ford V-8 engine. The V-8 was huge for that time but paled in comparison with the subsequent V-8s used in future Cobras.
Still, the technology was unique that time, and Shelby was the very first one to dive into it. The CSX 2000 became a sensation in the motorsports industry, especially because it was used as a promotional tool for many more Cobras that came after it. Shelby was so clever, in fact, that he painted the CSX 2000 many different colors to appear as if there was more than one Cobra out in the market.
So popular is the Cobra that Shelby's company still makes "continuation" Cobras today, long after its creator passed away.
The original CSX 2000 remained with the company until it recently announced that it will be offered for the first time to the public. Unknown to many, Shelby and Rob Myers, RM Sotheby's founder, were good friends. They made an agreement before that the CSX 2000 would eventually be up for auction, and Myers' company will be the one to manage it.
Estimates said the Shelby Cobra could raise $10 million or more.