Fisker Electric SUV Will Rival Tesla Model Y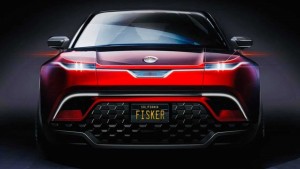 EV brand Fisker is reviving its lineup with a new SUV with a 300-mile range in the works. The company, who released a series of teaser shots of the EV, said it plans to introduce the new SUV to the market in 2021 with a debut scheduled this December.
Fisker said it is in the final stages of choosing a production site for the SUV. The company added that it will be priced below $40,000, meaning that the price point will rival the Tesla Model Y which is due to be released in the second half of 2020.
Back in 2018, Fisker introduced the EMotion sedan that will supposedly be the foundation of the EV SUV. But the teaser images revealed by the company showed a different design that the concept introduced a year ago. This vehicle has sharper lines and an indicator lamp mounted in the C-pillar. This design is supposed to improve the safety features of the EV, Fisker said.
There were earlier photos of the SUV that revealed a somewhat similar front design to the EMotion. Both of the vehicles placed their safety sensors within the cars' grille. They will also have massive wheels of up to 22 inches in diameter for the SUV and 24 inches for the sedan.
Under the hood, the SUV is going with a dual-motor system that can drive for 300 miles. Its battery is a conventional lithium-ion although Fisker is planning to develop its own battery. It'll be no surprise if the battery is switched halfway into the production.
The EV SUV is one of the three most affordable models in the company's plan. The two others will follow the SUV while the EMotion is going to be launched soon after. The EMotion will retail for a whopping $190,000 with top specifications.
The EMotion was originally scheduled for a 2019 reveal but the plan has been put to test by Fisker wanting to perfect its solid-state battery, the same one it plans to use in this new SUV. The solid-state battery will be able to go 500 miles on a single charge. It will also be recharged in just a few minutes.