FJ Cruiser To End Production This August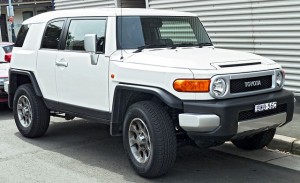 Toyota has just confirmed it will end the production of the retro-inspired FJ Cruiser this August. This is a sad news for the handful of markets that still manage to get their claws on the two-door SUV.
If you can remember, the FJ Cruiser was first introduced at the 2005 Detroit Auto Show as an off-roader inspired by Toyota's cult classic FJ40 Land Cruiser.
Toyota has already pulled out the FJ Cruiser from North American markets about two years ago. But its sales have continued in markets that favor rugged-type SUVs such as Japan, China, Australia and the Middle East, among others.
In the United States and Canada, Toyota decided to focus on its four-door 4Runner, which has surprisingly been popular among North American consumers. The current 4Runner was launched in 2009, but it was updated for the 2014 model.
Both models, the FJ Cruiser and the 4Runner, share most of the designs and performance features—running gear and their body on-frame construction. However, they are assembled in different plants.
In most markets, the two models are priced very close to each other. But in the US, the 4Runner is generally a bit more expensive than the FJ Cruiser.
Usually, when Toyota stops a production for a car model, it first creates a special edition—kind of like a souvenir for that particular model's fans. In particular, it did that for the high-feature Ultimate Edition offered to American consumers in 2014 before the SUV closed its market.
For the FJ Cruiser, the company has yet to announce any such plans. Of course, how ironic was it that car enthusiasts are mourning the end of the FJ's production when it didn't receive that much love when it was first launched.
Remember, we used to think it was a bit on the unsightly side until Toyota made some improvements on it designs?