Ford Debuts Its Hotter Fiesta ST200 At The Geneva Auto Show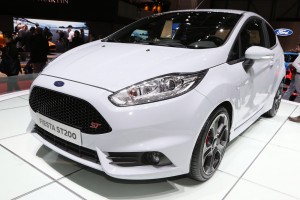 We've long heard about the hotter version of the Ford Fiesta that the company is gearing to release during the Geneva Motor Show. Now, we see full videos and photos of the ST200—a model referring to the new power level of the Fiesta, thanks to Motor Authority.
Of course, we should be clear that the power reference of 200 is measured in metric horsepower. In the United States, the Ford Fiesta ST200 would have 197 hp on tap.
The car enjoys a turbocharged 1.6-liter, four-cylinder engine like the Fiesta ST. And although the ST did develop a 197 hp, that was temporary and was hit because of an overboost function.
On the other hand, the ST200 has its own overboost function that has peak output of 212 hp for bursts of 15 seconds. Peak torque is normally at 214 pound-feet and as much as 236 lb-ft with overboost.
Potential buyers of the ST200 can get to choose a six-speed manual transmission, which is the standard for this car. But thanks to a new 4.06 final drive ratio—down from 3.82 in the Fiesta ST—drivers can enjoy better in-gear acceleration that will make driving more enjoyable.
In terms of speed, the Fiesta ST200 can go 0-62 mph in 6.7 seconds, down from 6.9 seconds for the Fiesta ST. The top speed is at 143 mph.
When it comes to the exterior, the ST200 is not far from the Fiesta ST, so Ford decided to add an exclusive Storm Gray exterior finish for this line. There's also the special 17-inch alloy wheels, red brake calipers, Recaro seats, illuminated door sills, and "ST200" badges.
Production for the ST200 will begin in June for the European market. Ford hasn't confirmed if the Fiesta ST200 will be in local showrooms, but with its price range, I bet Ford lovers would want to get their hands on this.
As much as the new Focus RS was loved and accepted, its starting price of $36,605 leaves much to be desired. That's where Fiesta ST200 comes in, as well as the fact that the current Fiesta will soon be unavailable because prototypes for the next generation model have already been launched.
The launch of the Fiesta ST200 at the Geneva Motor Show is a good way for the current model to bow out.