Ford Fiesta ST Upgraded To 200 BHP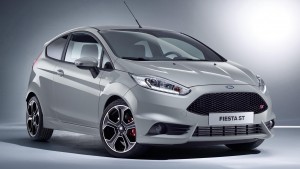 The Ford Fiesta ST hatch has gotten a good upgrade with 200 bhp and a nicer trim. We expect to see this at the Geneva Auto Show this March 1.
This would definitely steal some spotlight from the other hatchbacks and sedans currently lined up for the motor show. The hatch's iteration was given more power plus a nicer trim since its going to presumably end its run soon.
Some who bought the Ford Fiesta ST may be slighted with the release of the ST200 model, but those who can get their hands on the new iteration would be greatly pleased.
According to TopGear, the changes aren't exactly earth shattering, but they are enough to merit a second look. The Ford Fiesta ST200 will have a 1.6-litre turbo petrol engine that ups the ante to 197bhp (or 200PS, hence the name), shaving a couple of tenths off the 0-62mph time, which now stands at 6.7 seconds.
Ford is also promising better in-gear performance, so its six gears should just be enough.
Ford also allows special specification and customization of the ST200. There's a new "Storm Grey" paint, some fancy matt black alloys, and lots of nice red detailing inside and out.
All of these features are exclusive to the ST200, which only 500 will be made each year. This will, of course, keep their bragging rights strong. This might strongly remind you of the And if you recognise the short-run 2.5-litre V6 Mondeo ST200, released in 1999.
Prices have yet to be announced, but we are expecting the ST200 to be somewhere near the £21,000 range. Expectedly, some may frown at this since it's a few thousands more than the standard edition, but the ST200 is a bargain compared to the Renaultsport Clio Trophy or Peugeot Sport 208 GTI, both will probably cost around £22,000 once they are released.