Ford GT Of John Cena Is Back On The Auction Block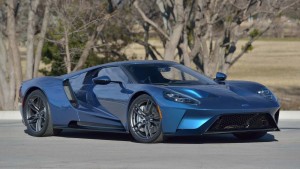 John Cena's infamous Ford GT, which made headlines when it was sold by the WWE superstar a month after buying it even with the no-resell clause in the contract, is back on the auction block for the third time in the last two years. The Liquid Blue Metallic supercar will once again be auctioned off by Mecum Auctions, which handled it the last time it was auctioned off in Dallas four months ago. That wasn't too long ago, huh?
Let's back up a little. Back in 2017, Ford sold the $500,000 car to Cena who was chosen based on his ownership of other high-end cars and his social reach. The contract disallows the wrestling superstar to resell the GT for 24 months after its initial delivery. But Cena decided he didn't want the GT a month after receiving it and he sold it to a 78-year-old Californian farmer for $1.54 million.
Ford sued Cena because of the no-resell clause in the contract but both parties eventually reached a settlement. Back to the farmer, he decided he didn't want the GT eight months after owning it and sold it to a Russo & Steele auction in August 2018. The GT had 625 miles on it by then. The next owner purchased the car for $1.7 million but sold it to Mecum auction in Dallas after just a month. He put one mile on the supercar.
With 626 miles on the GT, owner No. 4 purchased it for $1.32 million but after only five months of receiving the keys to Cena's former wheels, it's now on Mecum's listing again for its May 2019 auction. It now has a total of 635 miles, meaning owner No. 4 just drove it for nine miles! With 647 horsepower and 550-pound feet of torque, it's hard to imagine why no one wants to put the miles on this thing. It also has the ability to hit 216 mph by just batting your eyelash, by the way.
We'll see this coming May who the next owner of this Ford GT is as it's fast becoming the hot potato of supercars.