Ford Ranger Black Edition To Make Its Debut At The Frankfurt Motor Show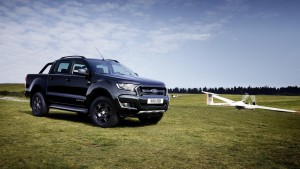 Ford's most popular truck, the Ranger, has been fitted with an all-black trimming and exterior features for a special limited version of the current model. Called the Black Edition, it is scheduled to make its debut at the Frankfurt Motor Show this September.
The vehicle will only be available for European customers, though, so the US market would have to wait until 2019 to get their hands on the Ford Ranger Black Edition. To make it more exclusive, not everyone in Europe can drive the Black Edition. There will only be 2,500 units of this edition, so you better make sure you deposit a reservation if you're interested in owning this.
According to Ford, the Ranger is Europe's best-selling pickup truck.
Hans Schep, general manager of Ford Europe, said in a statement that Ranger customers want the vehicle's "tough, go-anywhere capability, and its rugged good looks." He added that the company has high hopes and expectations for the Ranger Black Edition, which is an "attractive new limited series."
Based on the limited series trim, the all-black special edition is a de-chromed version of the current Ranger. Instead of chrome finishing, the pickup truck will have a black grille, alloy wheels, and sports bar. It is painted in Absolute Black.
Inside, the seats are covered in leather trim and there are heated door mirrors. Standard equipment of the Ranger Black Edition includes satellite navigation, front parking sensors, rearview camera, Ford SYNC 3 multimedia system with 8-inch touchscreen, and dual-zone electronic climate control.
European market can start placing their orders in their chosen dealers now. So yes, maybe Europe is a little bit luckier because they'll have a chance on the Black Edition. But on the other hand, they don't have the new Bronco yet, so maybe there is enough justice in the world.