Ford Reveals Ranger Raptor's Price And Specs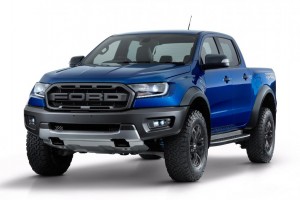 The new Ford Ranger Raptor, the flagship model of the revised Ranger line-up, has been revealed at the 2019 Commercial Vehicle Show in Birmingham this week. Developed by Ford with the aim to deliver better off-road capability than the standard Ranger, the performance-focused Raptor will start deliveries in summer for £40,696 ($53,017.73).
Ford aims to improve the pickup truck's on-road and off-road capabilities, fitting the Ranger Raptor with 2.0-liter EcoBlue diesel engine that can make 210 horsepower and 500Nm of torque. This engine is paired with the same 10-speed automatic transmission that can be found in the US version of the F-150 Raptor. There are six different driving modes available: two for on-road use and four for off-road driving.
The F-150 Raptor enjoyed massive success in Britain's store and if that's not enough, the Ford offices in Britain lobbied to bring the smaller Ranger Raptor to its shores.
For that price, British buyers will get the Raptor's aggressive visual transformation, as well as many standard equipment and driver and safety assistance tech that comes with this pickup truck—lane keep assist, traffic sign recognition, rearview camera, and a collision mitigation system. The seats are all wrapped in leather and Ford's SYNC 3 infotainment can be controlled through the eight-inch touchscreen on the dash.
Outside, the Ranger Raptor has a new grille, extra ground clearance, and LED fog lamps. The wheels are larger, which pushed the bumper to flare out to accommodate them. The long-travel suspension is made for durability, stability, and better handling. Since the truck is made for the great outdoors, the front bumper uses composite materials to better withstand the expected dings and dents. Even the side steps are intended to drain mud, snow, and dirt since they are made of tough aluminum alloy with holes for proper cleanup.
The chassis has been upgraded to further handle the demands of off-road driving. The frame is tougher and stiffer. The brakes have been upgraded. And the race-bred suspension was set up to handle high speed in rough terrains.