Ford Super Duty Trucks Get Power Boost For 2018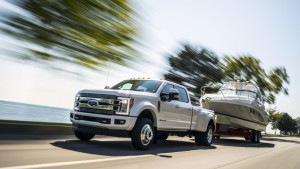 Maybe it is time to get our hands on the 2018 Ford F-Series Super Duty Trucks. After all, the American carmaker just boasted superiority in five major areas: horsepower, torque, towing, gooseneck towing, and payload. If that is not superpower to the tune of Marvel's Avengers, we don't know what is.
Both its horsepower and torque have been increased by at least 10 units. Packed with the 6.7-liter Power Stroke V8 turbodiesel, the Super Duty Trucks can produce 450 horsepower, up by 10 from the 2017 line, and 935 pound-feet of torque. The move makes sense because truck manufacturers are now trying to reach the 1,000-mark for their torque.
The diesel option has also been upgraded. The 6.7-liter diesel now includes cylinder heads redesigned for greater strength during heavy loads. The upgrade added optimized fuel and turbo boost calibrations too. There's a 6.2-liter gasoline engine option or the 6.8-liter V10 as well, but Ford has not revealed any details on this yet. These options will continue on until 2018.
According to Ford, the Super Duty Pickup Trucks has the best conventional hitch towing capacity. It can carry as much as 21,000 pounds and 7,360 pounds of payload.
Then, the 2018 Super Duty lineup has been boosted by an F-450 Crew Cab 4×2 dualie. It boasts of its ability to tow a gooseneck trailer, which has been increased to 34,000 pounds, big thanks to an integrated gooseneck hitch mounts. That capacity is up 1,500 pounds from 2016's number.
Remember, the F-450 was only offered as a dual-rear-wheel 4×4 with the Power Stroke.
The 2018 Super Duty F-450 4×2 dual-rear-wheel pickup is scheduled to be released this winter in XL, XLT, Lariat and Platinum trim. It is expected to be sold with a price tag of $52,830, though this may differ depending on your distributor.