Former FCA CEO Sergio Marchionne On Life Support After Stroke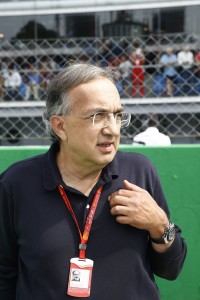 Sergio Marchionne won't be returning to his post as CEO of the Fiat Chrysler Automobiles because he is on life support after a surgery on his shoulder put him into a coma with irreversible brain damage, a report from an Italian website said.
Citing anonymous sources, Lettera43 said that the 66-year-old former CEO was diagnosed a long time ago with invasive shoulder sarcoma, a rare type of cancer that develops in the bones and connective tissues. He apparently did not inform Fiat Chrysler Chairman John Elkann about the severity of his illness.
A translation of the report, which was written in Italian, said that Marchionne was having "severe shoulder pain that made arm movements difficult." A separate report from Automotive News also said that he had a chronic thyroid condition that he had been taking medications to treat. Before his surgery at the University of Zurich, Marchionne shared some doubts about how effective it would be.
During the surgery, which took place in late June, Marchionne suffered from a cerebral embolism that put him into a coma. Doctors have no hope of recovery and they are simply relying on machines to keep him alive.
Representatives from Fiat Chrysler refused to comment on the story.
Last Saturday, Fiat Chrysler's board of directors met for an emergency session to elect former Jeep brand chief Mike Manley as the new CEO. The company said Marchionne won't be returning to his post, though he wasn't expected to retire until next year.
In a statement over the weekend, Elkann said that he is "profoundly saddened to learn of Sergio's state of health." The two have worked together for the last 14 years and "lived through successes and difficulties, internal and external crises, but also unique and unrepeatable moments, both personal and professional."
Update:
In an official statement released by FCA, we sadly inform readers that Marchionne has already passed on. Our sympathies go with his family and others close to him.