Four Key Features Of AC Schnitzer 2016 BMW M2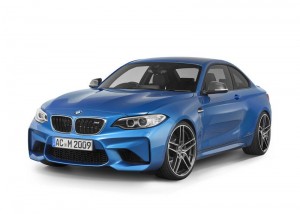 AC Schnitzer specializes in aftermarket tuning of Bimmers, and what they did with the 2016 BMW M2 from front to back and top to bottom is the stuff fairy tales are made of. The tuning upgrade brought the M2 to the sports car echelon of the automobile industry.
Here are some new features you need to know about AC Schnitzer's M2 tuning:
Aerodynamics
Tinkering with the aerodynamics is one of the staples of an AC tuning. The program for the M2 did not differ. The aerodynamics kit has carbon front side wings and carbon rear wing that enhance the M2's looks. But aside from it, the carbon also works well together with the new front splitter, rear roof spoiler, and carbon rear diffuser. It allows well-tuned handling experience even when the car is running on high speed.
Interior
Interior has always been overlooked by every tuning company that upgraded a vehicle. That cannot be said with AC, though the changes are minimal like the aluminum pedal set and footrest, key holder, handbrake handle, aluminum cover for the M2's iDrive Controller, and velour floor mats.
Drivetrain
The AC Schnitzer's tuning of the M2 was focused on the engine modifications, though these are mostly software upgrades. Still, AC offers a charge cooler that can help improve the capacity and efficiency of M2's 3.0-liter turbocharged six-cylinder engine. After the tuning, the M2 can now produce 420 horsepower, a 50 ponies upgrade from the standard 370 horsepower.
Suspension and brakes
AC Schnitzer specifically built RS coilovers for the M2. They are height-adjustable, and come with compression and rebound setting. It can also be lowered from 1.18 inches to 1.57 inches. There's also the suspension spring kit that can drop the M2 from the height of 0.98 inches to 1.18 inches at the front and from 0.59 inches to 0.79 inches at the back.