Fourth-Generation Honda Fit To Get New Design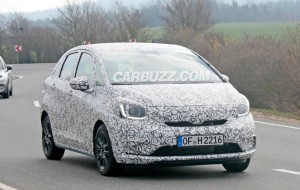 Known as a Jazz in some markets, particularly in Asia, the 2020 Honda Fit is about to be redesigned and restyled. Since its unveiling back in the late 2000s, this subcompact hatchback has been the Japanese brand's best-selling compact sedan.
New spy shots of the prototype have been spotted while the vehicle was being driven around in Germany. The hatchback was heavily camouflaged but the spy images give a sneak peek of what the hatchback will bring to the table. The 2020 model will have a rounder and more streamlined shape for the new subcompact hatch.
The prototype also gave a glimpse of the Fit's new interior design, which looks to be ready to sport a large infotainment screen in the center of the dashboard.
The new Fit will be based on the all-new platform that can house both an internal combustion (petrol and diesel engines) and a hybrid or fully electric powertrain. This supports the argument that Honda is planning a hybrid powertrain as the sole option for the new Honda Fit.
The latest Insight is a good indication of what engines (or combination of engines) will be used for the Fit. The Insight houses a 1.5-liter Atkinson cycle inline-4 that's paired with two electric motors that replace the transmission. The Insight generates 151 horsepower but this may be lowered for the Fit since the current model just makes 128 horsepower from the 1.5-liter inline-4 engine.
There's also a possibility that the Honda Fit may add an electric powertrain in the new model. This works best for the international markets that will miss out on the Japanese brand's upcoming electric car based on the 2017's Urban EV concept. The United States will miss out on that concept. It will also give Honda the opportunity to price the Fit more aggressively.
The engines will most likely be the 1.2-liter Petrol engine and a 1.5-liter diesel engine, though the engine will be reworked to meet the BSVI emission norms.