Full on Luxury, Full on Adventure, That's Infiniti QX80 for You!
To keep repeating success is a great thing. However, it needs to have a different flavor, different attitude each time. There have to be some new accomplishments, some new talking points and some new attractions. That is when the miracle of repeating success gets a new charm. So, while a vehicle brand may have a lot of creations to its credit but it needs to work really hard to make sure that it produces a different magic every time. It is not really a pressure game but it is simply important to keep people talking and amazed at the same time. Talking about amazement, here's presenting the upcoming Infiniti QX80 2015 that is a gorgeous blend of luxury and adventure. For everyone who has a thing for luxury is sure to lose their hearts to this one and for those who never give sports utility vehicle a break will give in to its energy. It is as if this is what the world had been waiting for. So, there, Infiniti QX56 was a hit too but the company has beautifully delivered a machine that is sure to repeat its success saga. Just the thing we were talking about.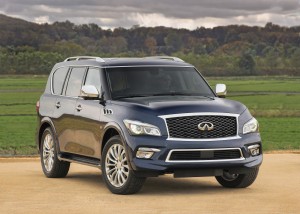 What makes the upcoming Infiniti QX80 superb, you ask. Well, from looks to performance, there is everything that you need to sweep you off your feet. Let's take it one by one. Talking about the engine first – this one comes fitted with an amazing 5.6 liter V-8 engine. It generates around 400 horsepower, making it one hell of a powerhouse. It is just what all of us secretly fantasize about. However, there are experts who don't forget to mention that this one is likely to feed greedily on power, perhaps more than expected. However, that is a risk most people are willing to take and find out, for there are so many other things to look forward to. If the EPA rankings are to be believed, it is likely to deliver 14 mpg on city roads and approximately 20 mpg if one hits the highway. The cumulative number rests around 16 mpg and it is far from disappointing, considering what other SUVs have to offer, not to forget that this one is a tremendously unique affair.
Let's move on to the exteriors of the upcoming Infiniti QX80 2015 which have been very tastefully designed to impress and kill! There is a wonderful play of chrome. The frame is extremely stylish and the features, very innovative. What else will you call a feature called backup collision intervention! There are side mirrors that are power-operated and the front lights are jazzy, too – these are carefully chosen Xenon high density!
The upcoming Infiniti QX80 2015 comes fitted with two rows of seats in the back and there is ample room for a family. So, there is all the glamour that you ever wanted, the sturdiness too and there is no reason you should let your excitement rest for this one!