General Motors Decides Hybrid SUVs and Trucks are No Longer a Priority
While most automotive brands are gearing up with new programs and vehicles aimed at the hybrid and electric markets, one auto giant is canceling its program, or so several reputable online auto news sources report. Though the 2013 Chevy and GMC trucks and SUVs are currently making their debuts, it seems that the auto company has more important matters to focus on than further developing the hybrid variants of these models. We're not sure what pinpointed General Motors in this direction, but we're certainly interested to see how the brand will continue to be a strong competitor without adding entries to these markets.
Currently, the Cadillac Escalade, the Chevrolet Tahoe, the GMC Yukon, and the Chevrolet Silverado share the same two-mode hybrid engine (though they also come in standard gasoline versions), so we're certainly curious about what GM's plans are for the future, especially since the company has been so silent concerning them.
Though we can only speculate about the reasons GM pulled the plug on its hybrid project, we sense it has something to do with the fact that the hybrid models haven't been selling as well as the standard gasoline models, probably because their fuel economy ratings aren't that impressive despite the switch in engine type. The two-mode hybrid system is currently rated at 20 mpg city/23 mpg highway, which certainly isn't bad for full-size vehicles, but the combination of these numbers with the label "hybrid" just doesn't seem to be working out well in terms of sales. Of course, the auto giant could also be making room for development of its fuel-saving ICE innovation that allows full-size trucks to achieve 25 mpg as well.
Despite the fact that we will be seeing most of the hybrid models disappear, there is word that the Cadillac Escalade hybrid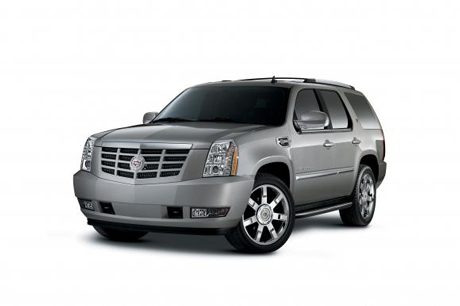 could stick around, as General Motors seems to believe that wealthy drivers and celebrities like the idea of driving "green" and are less concerned with actual fuel efficiency numbers than standard drivers. This new hybrid SUV should launch for the 2014 model year (around January, we believe) which should give the automaker a good bit of time to develop a brand new hybrid variant of the popular luxury SUV.
There's also reason to believe that GM may have taken recent criticisms by its drivers to heart, in addition to the poor sales of its current hybrid SUV and truck models. When spy shots of the 2014 Chevrolet Silverado were leaked across the internet, reactions to the vehicle seemed to have a huge impact on the company's new truck program, and we continue to see changes such as the dropped hybrid program erupting by the day. In truth, though, we'll have to wait ten months to see what the future of the GM brand truly brings when new models debut about nine or ten months from now. Of course, reviewitonline.net has big expectations, and we're confident we'll see something amazing from the auto giant.
Be sure to stay tuned here for more hybrid SUV news, as well as updates about new models, technologies, and auto company initiatives. We'll be sure to keep you up-to-date with more interesting information!