Hennessey Provides 1139 HP to the Chevrolet Corvette ZR1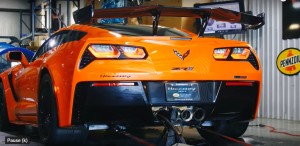 While everyone's attention at the moment is focused on the new 2020 Chevrolet C8 Corvette Stingray, another Chevy, the Corvette ZR1, just made the headlines too because Hennessey Performance Engineering revealed its new tuning package for it.
HPE just gave us a preview of the most powerful Corvette ZR1 to date by giving it a boost to bring its total output to a whopping 1,139 hp while its torque going to the rear wheels reached 994 lb-ft.  An E85 fuel was used for the car during the dyno testing.
In comparison, the stock configuration of the Corvette ZR1's 6.2-liter supercharged V8 engine is 755 hp and 715 lb-ft of torque. HPE's tune raised the figured by a mindblowing 384 hp and 279 lb-ft of torque. The difference is already nearly the power of a high-performance car like the new Mercedes-AMG CLA45 with 387 hp and 354 lb-ft of torque.
When the Corvette ZR1 made its debut, HPE promised that it would be working on models of the car to raise its bar to up to 1,200 hp. Being true to its word, the unit we are looking at here is only 61 hp below that target.
HPE didn't reveal the full details surrounding the performance upgrades of the Corvette ZR1. The description of the video mentioned though that its supercharger was tweaked to deliver 13 psi.
The sweet sound of the vehicle's V8 unit can be heard as its pedal was put to the metal. It's also worth noting that due to the enormous power of the car, it's digital speedometer was already going nuts and hitting the numbers by tens.
Watch the video showing the dyno testing of the HPE-enhanced Corvette ZR1 below: