Honda Civic Type R Takes on the Dodge Challenger Hellcat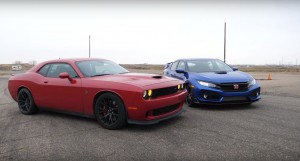 Which one wins if you put the Honda Civic Type R against the Dodge Challenger Hellcat? Well, this one is a no-brainer since the Hellcat is such a beast on the road.
Recently, the two were pitted against each other on the track. A father and son duo were seen racing the two cars in a YouTube video by The Fast Lane Car channel.
You will be surprised with the result.
First off, the Hellcat possesses a supercharged 6.2-liter V8 engine. The unit screams 707 hp. On the other hand, the Honda Civic Type R has a turbocharged 2.0-liter inline-four engine. That delivers a measly 306 hp.
Comparing the outputs of the two, the Civic Type R's power is not even half of what the Hellcat is capable of. So when it came to the drag race, the Dodge muscle car darted like an angry animal chasing its prey while the Honda was left to eat dust. That was truly predictable looking at the numbers alone.
It does not end there though. The son challenged the dad to where he thought the Civic Type R will be at an advantage—in a hot lap.
The Honda sports car may come short in power compared to the competition, but its lighter weight, shorter wheelbase and better suspension give it a good shot against the Dodge supercar.
The fast lap was a different story because while the Hellcat took the straight road easily, it struggled on bends. The Hellcat finished the lap in 1 minute and 12 seconds.
When it was the Civic Type R's turn, it appeared more agile at corners as it smoothly cruised its way on track. The total time of the car was 1 minute and 8 seconds. That was 4 seconds faster than the Hellcat's lap time.
Watch the video below to see how the drag race and hot lap unfolded: