Honda Ends Production of CR-Z Hybrid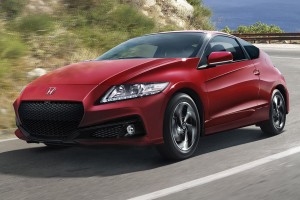 Honda is altogether stopping the production of the compact CR-Z hybrid, a slow-selling, sporty car that was not able to live up to expectations.
Production of the Japanese-made car will stop by the end of this year, Honda's spokeswoman Nao Uzawa said. Sales, in fact, have ended in the American market since Honda already started to focus its green technology on the re-engineered Accord Hybrid with its upgraded drivetrain.
The CR-Z was first introduced in 2010, receiving rave reviews at first because of its inspired styling and the innovation of applying an environmentally friendly gasoline-electric system in a sporty vehicle.
The CR-Z hit the market in 2010 to rave reviews for its inspired styling and the novelty of applying an environmentally friendly gasoline-electric system in a sporty ride. The package promised to be a modern spiritual incarnation of the tuner-classic CR-X, blending the best of Honda's latest eco-friendly technology with its heritage for spirited driving.
Last year, sales of the CR-Z in the US went down by 14 percent to only 3,073 vehicles. Until June this year, the number fell by another 6.7 percent to only 1,025 vehicles.
But even though the CR-Z was made for fuel economy, it never really scored high in fuel efficiency or even in sporty performance. Since then, Honda began working on sportier hybrids such as the three motor systems in the Acura RLX and the NSX sports car.
In Japan, Honda is commemorating the CR-Z with a special edition called the "Final Label." The Japanese automaker has bigger plans for the re-engineered 2017 Accord Hybrid, which was released to the market this year.
For that vehicle, the annual US deliveries are expected to exceed 30,000 units.
The current version of the Accord Hybrid will be produced at Honda's Sayama plant, north of Tokyo. It has been making the Accord Hybrid also in the US, but Honda stopped the output last summer to boost factory utilization rates in Japan.