Hybrid Kinetic Introduces K350 SUV And H500 Concepts In China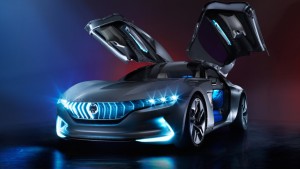 Hybrid Kinetic, an electric car startup company in China, partnered with Pininfarina to utilize new technologies for its cars. The Chinese company aims to come up with a full lineup of electric cars powered by an extended-range electric powertrain that uses a microturbine as range extender.
Pininfarina, the Italian design house, is tasked to pen each of the models. In the past, we have already seen four concepts that would define Hybrid Kinetic's future lineup—the H600 sedan, the K550 and K750 SUVs, and the GT coupe. All of these concepts feature a similar look, which is close to the company's planned production models.
During the 2018 Beijing Auto Show, Hybrid Kinetic presented to more sedan concepts—a small SUV called the K350 and a small sports sedan called the H500. The official shots revealed by the brand showed handsome exteriors and elegant, modern interiors for both vehicles.
Aside from the two vehicles, the concept also featured a common powertrain that has an electric motor at each exle that can produce a combined power of 800 horses. The motors will draw their energy from a battery that can be charged through a plug. It can also draw power from running using a compact microturbine that weighs less than 200 pounds.
The microturbine can deliver a continuous 80 horsepower, enough to charge the battery. It can also run using a variety of fuels such as diesel, gasoline, and hydrogen. The total reach could possibly be 620 miles. That's a lot of miles for a car running on battery!
The company's first production model could be a possible sedan arriving sometime in 2020. The automotive division of Hybrid Kinetic is not just focused on producing vehicles. Instead, it is part of a larger group that includes businesses on finance, battery production, and electric buses. Another thing that the company is focusing on is the graphene, a lighter and stronger material than carbon fiber that has the ability for faster charging time.