Hybrid Volkswagen Golf GTI First Decade Concept Car Unveiled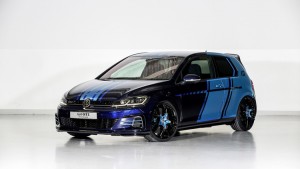 A hybrid model of the Volkswagen Golf GTI was just unveiled during the brand's fan meet at the Lake Worthersee in Austria. The concept car was made by a group of young VW apprentices.
According to Autoblog, the Volkswagen Golf GTI First Decade was created to commemorate the 10 years of Worthersee show builds commissioned by VW. Peter Christ, Head of Automotive Technology Training in Wolfsburg, said that the goal of the project is for the apprentices of the company to learn the complexities of automobile production and to let them gain further experience through the use of digital technologies, application of system technology and electro-mobility.
Power Units
Rechristened as the Volkswagen Golf GTI First Decade, the vehicle packs a petrol-fueled engine. The unit is capable of producing a whopping 410 hp. All that power is directed to the front wheels of the car.
Next to that is a 48-volt electric motor. The unit gives the Volkswagen Golf GTI First Decade another 16 hp at the rear wheels. There are no details yet about the range of the car's twin battery at full charge using the all-electric drive system, but the company says it is handy at short distances or in stop-and-go traffic. The regenerative braking technology of the auto provides it an improved energy efficiency.
Combining the petrol and electric motors of the Volkswagen Golf GTI First Decade allows it to optimize its performance with an all-wheel drive system.
Design
The Volkswagen Golf GTI First Decade is finished in five-tone matte paintwork. The striking Atlantic Blue color in its exterior with decorative strips and contrasting Satin Ocean Shimmer foil paint, blacked out radiator grille, rear spoiler and set of 20-inch alloy wheels make the car very hard to miss on the road.
The interior design of the car features handcrafted black nappa and Alcantara surfaces with blue trim. Basically, every element found in the Volkswagen Golf GTI has been retained, except that the developers of the concept car removed the rear passenger seats to make way for a massive 11-speaker, 1,690-watt sound system.