Hyundai And Kia Vehicles To Be Equipped With Solar Panels On The Roof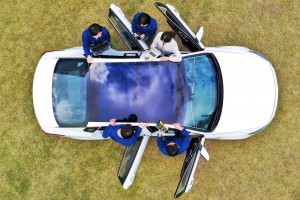 In a bid to increase the fuel efficiency, range, and reduce carbon dioxide emissions, future Hyundai and Kia e-vehicles will have solar panels for roofs, Hyundai Motor Group said on Wednesday.
The solar panels will be featured in the rooftops or the hoods of selected vehicles "after 2019." It aims to supplement the power produced by traditional internal combustion, hybrid, and battery-electric vehicles. Hyundai, Kia's parent company, said it is currently developing three different types of solar roof charging systems comprised of solar panel, controller, and battery.
The first-generation solar roof charging system is a silicon solar panel system installed in the rooftops of hybrid models. It will be capable of charging 30 to 60 percent of the battery each day, depending on weather conditions and other factors. This will start as early as 2020, the company said.
The second-generation is a semi-transparent solar roof system that will be applied on the panoramic sunroof. It will be capable of charging an electric vehicle's battery or a battery mounted on a gasoline engine. Why the focus on batteries for gasoline-engined cars? Hyundai said it will help increase vehicle exports because solar-equipped ICE vehicles will be able to follow regulations that limit CO2 emissions.
The third-generation system is the one being tested right now. It will add solar production capability by mounting the panels in the roof and hood of EVs. Both companies have yet to provide details about this system.
Jeong-Gil Park, executive vice president of engineering design at Hyundai Motor Group, said that the move will transform vehicles from a passive device that consumes energy to a solution that actually generates energy.
"The paradigm of the vehicle owner will shift from that of a consumer to an energy prosumer," he added.
Solar vehicle charging technology has mostly been confined within the boundaries of cooling off the interior or trickle-charging a conventional battery. Hyundai's and Kia's plans have yet to be put to test, so let's wait and see what's in store for us in the next couple of years.