Hyundai i20 Active Has a Nice Mix of Features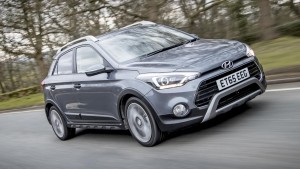 The Hyundai i20 Active is a what-you-see-is-what-you-get crossover. You cannot expect it to be packed with a powerful engine when it's clearly made for practicality, although the Korean company packed it with enough innovative technology to impress even the most discerning buyer.
The i20 Active has a little 1.0-liter, three-cylinder turbo engine, and it is a front-wheel drive. Power is distributed through a five-speed gearbox. There is no 4×4 here, unfortunately. It's not even an option, truth be told.
However, the Hyundai i20 Active does enjoy an additional 20mm of ride height over the i20's five doors. The driver's seat has a little bit of hike, too, for better visibility, and the exterior's panels have more rugged alternatives.
If you're into hiking and other outdoor adventures, you can make use of the included skid plates on the front and rear, as well as the roof rails on top. Make sure to double check, however, the i20 Active's capacity to climb mountains and drive through rough roads. Remember, this is not 4×4 drive.
But that's not to say you won't enjoy driving the i20 Active. It's actually pretty good, and the suspension is the stiffest of the i20 family. It was designed as such to counter the body roll that might be triggered by the extra height, as well as to please the younger market.
Hyundai has fitted the auto a development shift while going around Nürburgring. It results to a better grip and nicely weighted steering, just like the Ford Fiesta and the Mini. Overall, the car is very easy to drive, and has a nice flexibility to it.
We cannot say it's better than its rivals, unfortunately, as the Nissan Juke, Renault Captur and Fiat 500X have many personalization options, as well as aesthetics and dynamics features.
Suzuki Vitara, Fiat Panda 4xt and Dacia Duster also offers something the i20 Active doesn't—a 4×4 option.
But at £15,225, the Hyundai i20 Active will give all these rivals a run for their money. There's definitely competition if we look at the affordability and practicality of the current options in the market. Also, the five-year warranty could be an attraction that some cannot resist.
Source: TopGear