Hyundai i30 Wagon vs Volkswagen Golf Sportwagen
Hyundai i30 Wagon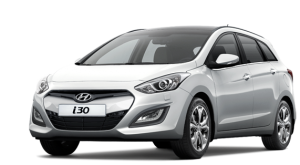 The third generation of Hyundai's resident hatchback is here, and boy, do we love its elegant and sporty interior coupled with the classic space wagon design on the outside. The Hyundai i30, as it is called in the rest of the world (it's referred to as the Elantra GT in the US), is a four-door hatchback with an angular look on the outside and a cleaner and modern layout on the inside.
Wagons used to be a big thing in the US, but their appeal has already faded. That's not to say the i30 Wagon won't have any competition. This aggressive and funky exterior will be challenged by the likes of Volkswagen Golf Sportwagen and the BMW 3 Series Wagon.
Inside, you'll find a slew of tech features such as a rearview camera, phone connectivity via Bluetooth, USB, Android Auto or Apple Car Play. Under the hood, the i3 will be equipped with the new turbocharged 4-cylinder engine that can produce 138 horsepower and 178 pound-feet of torque.
It is expected that the i30 will have a starting price of $23,000, which is cheaper than the 3 Series Wagon and the Volvo V60, but a little more expensive than the Sportwagen.
Volkswagen Golf Sportwagen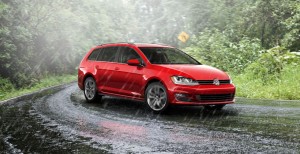 Unlike the i30 Wagon, the Volkswagen Golf Sportwagen will only receive its update for the 2018 model year. It was last upgraded in 2014, which means there is at least a three-year gap in terms of these two cars' designs. In terms of styling, the Sportwagen definitely has a quieter appeal than the i30.
But if you are more concerned with the interior and the power, then you have to give this Sportwagen a second glance. The interior is equipped with a three-spoke steering wheel, Alcatara-wrapped center section, a center console with a large touchscreen, and HVAC controls,. Other features include the 12-way power driver's seat, a panoramic moonroof, and Climatronic auto climate control.
Under the hood, the Sportwagen will receive power from the 1.8-liter, turbocharged 4-cylinder engine that coughs up 170 horsepower. There are two transmissions available: a five-speed manual or a six-speed automatic.
The base price for the Golf Sportwagen is $21,395.