Hyundai Kona Electric Showcases Powertrain Versatility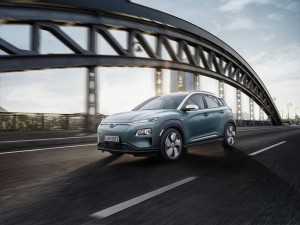 The Hyundai Kona Electric was introduced last week at the New York Auto Show, marking another level of versatility that the brand is bringing to its US utility lineup.
The Kona Electric is a pure EV subcompact crossover that go an estimated 250 miles on a single charge. It's part of the series of announcements that Hyundai made to introduce an all-new lineup. Last February, the South Korean automaker said that the redesigned Santa Fe will have a diesel option in 2019, which marks Hyundai's first diesel in the US market. The fuel-powered Nexo will also continue to be around to build on the brand's "hydrogen legacy."
The Kona Electric will be rolled out to targeted markets only. Hyundai said that the EV subcompact crossover will be produced in Ulsan, Korea, and will be initially available in California. Later on, other states with California's zero-emission vehicle regulations will follow the launch. The availability will start in the fourth quarter of 2018.
What the Kona EV brings to the table is "peace of mind" and "flexibility," according to Hyundai Motor America COO Brian Smith. Why? The 250-mile range is father than the capability of EVs before the Kona EV. Previous EVs can only muster up around 100 or 150 miles.
The closest competitor of the Kona EV is the Chevy Bolt, a hatchback that has the capacity of 238 miles in a single charge. Though Tesla Model 3 has a 220-mile range, it is a sedan and does not fall under the same category as the Kona.
A lot of cross-shopping will happen, Smith claims, as customers who want EVs suddenly have the option of buying a CUV because it's out in the market now. The 250-mile range will also allow many people to go two to three days without charging, and that's a big factor to consider.
The Kona EV gets 19.2 cubic feet of rear cargo space, which is the same as the gasoline version of the crossover. Pricing details have not been announced yet.