Hyundai Kona Is Going Tiny With Its New Crossover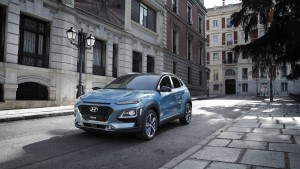 Hyundai just announced that its new mini crossover called the Kona is going to be on sale early next year in the United States. That means that the South Korean automaker is finally ready to make a splash in the car industry's hottest segments.
And that's not all. According to a source, the Hyundai Kona subcompact crossover will also usher in a new phase for the brand as it features for the first time the automaker's new design language. That's a surprising move for the company, which is suffering from a sales slump in the US and is now pressured to do good in the crossovers segment.
The styling originated from Irvine, California, Hyundai's design studio.  It features narrow LED daytime running lights mounted high near the hood line. There are also separate headlights that are positioned lower down the fascia. The effect? The Kona, up front, looks like the Nissan Juke or Jeep Cherokee.
The look isn't something everyone will love or adore, but the Nissan Juke was surprisingly successful in its sales both in Europe and even in the United States. The Cherokee, on the other hand, sold 200,000 units a year in the US in the last three years. These statistics means well for the Kona and any subsequent Hyundai badges.
Hyundai's new looks for the crossover will be used on the 2018 and 2019 model of the Santa Fe Sport, which spy shots showed a headlight setup and honeycomb grille similar to the Kona. The new crossover language design, however, signals Hyundai's willingness to finally break away from a decade of having strong design connection among its crossovers. Now, each nameplate will have a distinct design.
The similar look was necessary because Hyundai wasn't such a known brand 10 years ago. But now that it has differentiated itself from the rest of the Asian automakers, it's time to give each vehicle in the lineup a fresh look.