Hyundai Santa Fe Spy Shots Surface Online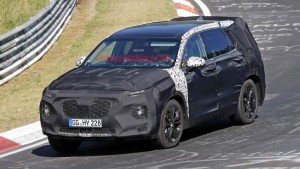 After unveiling the new Hyundai Kona, new spy shots surfaced online showing a camouflaged prototype of the upcoming Hyundai Santa Fe. Despite the heavy covering, the form of the spied vehicle seems to bear a striking resemblance with the Kona.
The shape of the Santa Fe's nose in the images here shows that it will sport an aggressive version of the Hyundai's cascading grille much like the Kona. The bulges in the headlights, bumpers and front lip all indicate that it is based on its smaller crossover sibling too.
The source also noticed from the frontal shots of the Santa Fe that it is carrying Recaro racing seats. But then again, the seats might only not make it in the production version of the auto.
Going to the rear, the new Santa Fe looks like it is keeping many styling elements found in its predecessor. The roofline and window panels are almost alike. There is probably an update in the taillights of the vehicle though.
The report said that the Santa Fe in the spy shots might carry a 2019 model year since we just saw an update in its current model this year. The earliest possible unveiling of the vehicle might be in the next spring or next fall.
A Look at the Present Hyundai Santa Fe
As a recap, the present refreshed model of the Santa Fe has a starting price of $30,800. The vehicle is offered in eight trims. The auto is offered in SE, Limited, SE Ultimate and Limited Ultimate versions. Each of the mentioned models come in two variants—the front wheel drive and the all-wheel drive. The current Santa Fe comes with a V6 engine with 290 hp.
New Hyundai Santa Fe Spy Shots
Check out the spy shots of the upcoming Hyundai Santa Fe model provided by Autoblog in the gallery below: