Hyundai Tucson Mildly Updated For 2017
The redesigned 2016 Hyundai Tucson sold like pancakes this year. Its sales have doubled compared with the numbers it posted from last year until June 2016. The Korean automaker didn't need to change much for its smallest crossover, seeing as it has been wildly successful in its target market.
Luckily, Hyundai heeded the sales figures, and only gave minor interior tweaks to the 2017 edition. These tweaks included the Android Auto and Apple CarPlay availability, as well as a new audio system and barely noticeable revisions to the cabin.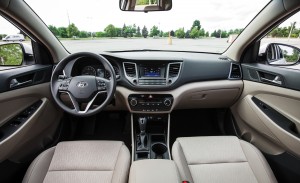 It's a welcome development to see Apple's and Android's smartphone compatibility software with the new Tucson, although it's kind of a bummer that this integration is only available on the top Limited trim level. Of course, there are third-party companies that can install the software in your lower-Limited Tucson trim, but it's just not the same as getting it straight from the source.
The Tucson Limited is the only model that has a larger 8-inch touchscreen with navigation compatibility with the Apple CarPlay and Android Auto tech. The other trim levels—the SE, Eco and Sport—are stuck with the mediocre 5-inch touchscreen that includes a backup camera and Bluetooth audio streaming.
Hyundai also announced recently that it has software updates to retroactively add Apple CarPlay and Android Auto to current Tucson models, but that also means it will only be available for the top trim level.
There's another new development for the 2017 Tucson, and that's the 315-watt Infinity audio system. This, unfortunately, is also reserved for the Limited trim level. But don't worry if you only have the budget for the Tucson Eco and Tucson Sport since these models now come standard with rear-seat air vents. The Sport will now also come packed with the Limited's door panels.
The exterior and powertrains remain the same, but that's completely okay since Tucson is powered by 1.6-liter turbo four-cylinder standard on Eco, Sport and Limited. Prices stay the same for the SE ($23,595) and the Eco ($25,045) while the Sport ($26,795) and Limited ($30,670) are actually a couple of bucks cheaper than the previous tags.