Important Things To Know About The 2019 Bentley Bentayga Hybrid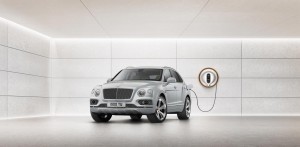 The 2019 Bentley Bentayga Hybrid will signify the entrance of the luxury carmaker into the world of electrified cars as this happens to be the electrified version of the brand's first-ever SUV. It is also Bentley's first hybrid vehicle ever and the world's first luxury SUV with an electrified powertrain.
The Bentayga Hybrid is identical to the regular Bentayga except for the additional fuel cap that's allotted for the plug-in socket. The interior's virtually the same, too, save for new tech and a revised infotainment system for hybrid duty.
Where the Bentayga Hybrid will be different is under the hood where the familiar W-12 and V-8 engines were replaced with a V-6 and an electric motor. The layout for the Bentley Bentayga (meaning, the use of a V-6 engine) is a first for a modern Bentayga. The drivetrain layout was borrowed from the Porsche Panamera E-Hybrid and soon, Bentley will be using it across its lineup, including the upcoming Flying Spur Hybrid.
The hybrid version of the Bentayga will produce 456 horsepower and 516 pound-feet of torque. This is far from the impressive numbers that the regular Bentayga makes which is 600 and 542 horsepower for the W-12 and V-8 engines, respectively. In comparison, it generates an extra 27 horses than the diesel version.
The Bentayga Hybrid is quick as it can go 60 mph in just 5.2 seconds. It's half-second slower compared to other SUVs but the Bentayga is larger both in size and weight. The top speed is limited to 158 mph, which is 10 mph slower than the diesel version and 29 mph slower than the W-12 engine.
Bentley boasts that the Hybrid can go 31 miles on electric charge alone, but that's measly compared with most hybrid cars in the market. When you need to drive around the city, though, 31 miles can get you to where you need to go, so we guess that's actually okay.
It will take 7.5 hours to charge the battery to full capacity if you use a domestic household socket. If you have an industrial connection at home, that can go down to just 2.5 hours.