Infiniti QX55 Will Take A Shot At X4, GLC Coupe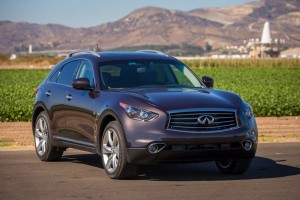 Infiniti announced that it has a new vehicle in its lineup and that it will hopefully give the BMW X4 and the Mercedes-Benz GLC Coupe a run for their money. Called the Infiniti QX55, this is a coupe variant of the recently released QX50.
The SUV coupe is one of the fastest-growing segments in the auto industry, so it seems like Infiniti is trying to get a chunk of that market.
It was in 2017 the last time Infiniti had a coupe-like crossover. That's the final year of the QX70, which was formerly named Infiniti FX. First introduced in 2003, the Infiniti FX used to be a rear-drive-based five-seat luxury crossover that uses the same platform in vehicles such as the Infiniti Q50, Q60, and the Nissan 370Z.
The first-generation Infiniti FX came with a 3.5-liter V-6 unit in the FX35 variant or a 4.5-liter V-8 in the FX45. Both variants send the power to a five-speed automatic transmission.
The QX70, which was the second-generation FX, had under its hood the more powerful 3.5-liter V-6 and a 5.0-liter V-8. The latter replaced the 4.5-liter unit. For the 2014 model year, a 3.7-liter engine replaced the 3.5-liter unit. This was also around the time when the FX was renamed to QX70.
A teaser for the QX55 shows that the new Infiniti coupe will have a fastback roofline instead of the conventional hatch we see on the FX/QX70. It may be heavily influenced by sedans when it comes to its silhouette and the greenhouse appears to be narrow on the teaser, too.
The company failed to say when it expects the QX55 to make its debut. Maybe we can see it during the 2019 Pebble Beach Concours d'Elegance. It will go on sale next year's summer. Infiniti has yet to release the pricing details, but this should be pricier than the QX50.