INKAS Inks Partnership Agreement With Kore Design Studio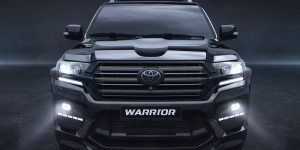 INKAS Group of Companies inked an exclusive $18-million deal with Kore Design Studio to produce its "unique line of carbon fiber products." Under the agreement, INKAS Group will act as the exclusive manufacturer of Kore Design tuning kits and interior feature upgrades.
Kore Design Studio is an expert in aftermarket visual tuning packages for a wide range of brands, models, and makes. Toyota, for example, is a client of Kore Design, and was often responsible for providing the Japanese automaker a one-of-a-kind look and performance upgrade.
David Khazanski, president of INKAS Group, said in a statement that his company is honored to be a partner of Kore Design in the production and manufacturing of luxury vehicles. He believed that the partnership will widen INKAS Group's portfolio of products and services, as well as allow it to create fresh opportunities for Canadians and support the Canadian economy.
INKAS Group is an international corporation with headquarters in Toronto, Canada. In the last two decades, the group has accumulated "extensive experience" in the design, engineering, and manufacturing of customized vehicles for VIP clients. Among its most notable clients are politicians, celebrities, and high-profile individuals.
"As a provider of exclusive solutions for the automotive segment, we stand behind the quality of our products, and it was vitally important for us to find a reliable partner willing to support our enormously high standards of engineering and manufacturing," Martin Lorrenzini, chief designer officer of Kore Design Studio, said.
INKAS Group, he added, is the "ideal choice" because they are committed to quality like Kore Design Studio. Mr Lorrenzini also lauded INKAS' extensive industry experience and modern fully-equipped production facility.
As part of the agreement, INKAS Group upgraded its manufacturing facility with 3D scanners, five axis milling machines, and Autoclaves. Production of the new carbon fiber products will begin in January 2018.