Inkas' Superior APC Is Perfect For Search-And-Rescue Operations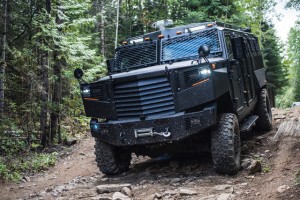 That debacle in Thailand back in June when 12 boys and their football coach got trapped inside a cave in the Chiang Rai province emphasized the need for more advancement in the search-and-rescue technology. Fortunately, Canadian company Inkas is working on that endeavor.
The Superior APC is Inkas' newest multipurpose vehicle that can drive through and survive the harshest and roughest of terrains to streamline search-and-rescue operations during emergency situations. Called the Superior Armored Personnel Carrier (APC) / Armored Medical Evacuation Vehicle (AMEV), it was masterfully crafted and designed to survive rough terrains while transporting up to 14 personnel or two personnel and 6 wounded passengers.
David Khazanski, CEO of Inkas Armored Vehicle Manufacturing which has headquarters in Toronto, Canada, said in a statement that the company's goal in manufacturing the APC is to create a solid platform that can transport personnel and wounded passengers in an efficient and secure manner. The APC's unique and flexible system can be used in various missions either in war-torn or calamity-hit countries.
The Superior APC is powered by an inline-6 diesel engine producing 330 horsepower and 950 pound-feet of torque capable of reaching a tested top speed of 130 kph. It also features a fifth-generation Allison 3000 push-button transmission, a 10,000 pound-feet rated transfer case, and an electro-hydraulic fuel system. Compared to other vehicles manufactured with the same capabilities in mind, the Superior APC outweighs them in mobility and dependability.
Other unique features offered by the Superior APC/AMEV are a hydraulic rear ramp system that enables the easy loading of wounded passengers, an upgraded optics package that features PTZ infrared and thermal processing, and numerous drivetrain and suspension modifications that ensure that the CEN BR7 rated vehicle performs well on any terrain and in any climate condition.
The Inkas Superior APC/AMEV is intended to be deployed within law enforcement, paramilitary, and peacekeeping operations.