Is A 700-Horsepower Porsche Panamera Coming?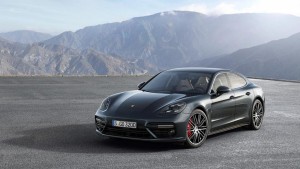 Porsche has finally unveiled its new Panamera this week. The supercar will come with a new 4.0-liter twin-turbo V-8 that produces 550 horsepower on a stylish four-door Porsche.
According to Motor Authority, there's more to come because Porsche has employed the trickle-down technology that was first seen on the 918 Spyder hypercar. Apparently, there would be a 700-horsepower Panamera version with a hybrid powertrain that combines the V-8 engine with an electric motor.
Speculations said that this Panamera version will be called the Panamera Turbo S Hybrid since Porsche generally uses the Turbo S nomenclature for its top-of-the-lines.
The trickle-down technology mentioned above refers to how the 918 Spyder featured a 4.6-liter V-8-partnered with a pair of electric motors that can go from 0 to 60 mph in just 2.8 seconds.
Currently, Porsche is offering a hybrid version of the Panamera, and it has been doing so for quite some time. The current Panamera S E-Hybrid can deliver 416 horsepower from its 3.0-liter V-6 engine and 95-horsepower electric motor.
The company has yet to announce a new hybrid version for this Panamera model, but there has been some spotted testing of what appears to be a fresh Panamera hybrid. Reports said the new hybrid Panamera will be a plug-in version as evidenced by fuel filler caps on both sides of the vehicle (one is for the charging port).
The new hybrid will likely share the V-6 engine with its predecessor. It will be mated with an electric motor, which will have more power than the current S E-Hybrid's 416 horsepower. It is also expected to be lighter and to have a higher-capacity battery than the previous one's ability to travel 22 miles on a single charge on a 9.4-kilowatt-hour lithium-ion battery.
The Panamera will hit the European market later this year while Americans can expect it to arrive by January next year.