Is a Volkwagen Up! GTI in the Works?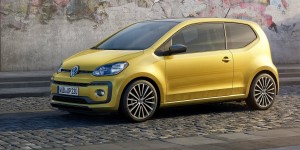 Rumor has it that Volkswagen is developing a range-topping GTI variant for its small Up! hatch.
According to reports, officials at the company's headquarters in Germany are talking about a new Volkswagen Up! GTI model to compete with the Abarth 595. They believe that such a model would improve the company's entry-level hatch since it can now provide the sporty good looks, as well as a high-caliber performance.
The car will be powered by a tuned version of the EA2 11 1.0-liter three-cylinder turbocharged engine, which is currently being used in the Golf Bluemotion TSI and the new Audi A3 range. Both have been tuned to produce 85kW/200Nm.
But the regular version of the engine will be powering the facelifted Up!, which will soon be released in some markets. A prototype of the Up! GTI reportedly has a top speed of 200km/h and a 0-100km/h time in just 8 seconds.
Compare this to the Abarth 595, and you'll be astounded by the Up! GTI. The Abarth 595 can produce 103kW/206Nm from the 1.4-liter four-cylinder turbocharged unit. It can go 100km/h in just 7.9 seconds.
The engine used on the GTI will most likely be paired with either a six-speed manual transmission or a seven-speed, dual-clutch automatic transmission. That should make up for enough power to maneuver the Up! GTI.
If the reports are accurate and the Up! GTI actually enter the market, we can expect a few more things from Volkswagen. Mainly, the new Up! GTI should have an upgraded chassis, some suspension adjustments, and the usual GTI-specific visual enhancements such as larger alloy wheels, wider skirts, and a twin chrome exhaust.
The Up! hatch was discontinued in Australian market in 2014, so it's also highly unlikely that this new Up! GTI will make its way to local dealership anytime soon. A few more weeks, though, and we're bound to receive more information about this development.