Is GM Planning To Develop An Electric Hummer?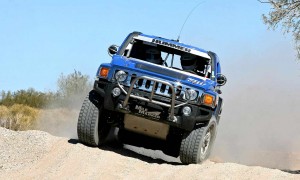 Hummer fans, rejoice! It looks like GM is considering reviving the Hummer brand but under different circumstances. A Bloomberg report said that General Motors may be developing an electric version of the Hummer.
The discussions are still in their preliminary states, the report said, but the plan is part of GM's organization of its range of electric trucks and SUVs. The company is reportedly mulling the idea of using the Hummer brand to compete with the demand for rugged vehicles.
GM is also supposedly looking at competing with Jeep for off-road vehicles with maximum passenger comfort and luxury as their selling point. The report from Bloomberg noted that designers and engineers are already working with Hummer concepts in the hopes of integrating these concepts to GMC-branded products as well.
But is it smart for GM to revive the Hummer only for it to be an electrified version? People love Hummer because it's big, brawny, muscular, perfect for off-road conditions, and gas is relatively cheap at least for now.
American automaker Rivian has a different opinion, of course, seeing as the Rivian R1S has the same specifications that this rumored electric Hummer is aiming for. Based on Rivian's investment on the electrified trucks segment, it looks like the hype around the segment is real. Still, an electrified truck worth $70,000 or more? That hasn't been tested in the market.
Recent reports have indicated that GM is developing a new platform for an electric pickup truck but that does not mean this is anywhere near completion.
The last time we saw a Hummer was in 2010 when GM halted its production after it declared bankruptcy in 2009. Recession and high gas prices drove down Hummer's sales but GM still has the brand under its portfolio. Wouldn't it be nice to see an electrified Hummer in this market's current obsession with SUV and crossovers?