Is Honda Celebrating Its 70th Anniversary With A New S2000 Roadster?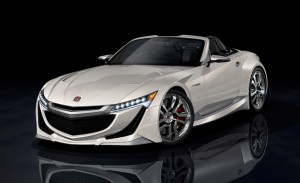 Is it possible that Honda will be celebration with a new S2000 roadster just in time for its 70th anniversary in 2018? Rumors of the new roadster cannot die, even as we already confirmed the tiny S660 roadster will not be coming to US shores and the mid-engine sports car that sits below the Acura NSX is probably not happening anytime soon.
Honda first launched the S2000 in 1998 to celebrate its 50th anniversary, so it's only fitting that they can also release a new roadster for their 70th year. It is even possible we will be seeing a new car and a commemorative two-wheeler to mark the occasion.
A source claimed the car can be compared to the Mazda MX-5 Miata in size, although Honda's will be more powerful, performance-wise. The bike, on the other hand, will be a "detuned, roadgoing version of the RC213V-S.
However, skeptics note that Honda does not have a platform for a compact, rear-wheel-drive sports car. But, just look at what they did with the S660 mini-coupe and the all-new NSX supercar. Honda may not have a platform for such models, but they come out pretty unique, didn't they?
An Acura executive revealed during the 2014 Detroit Auto Show that Honda is planning to fit in a smaller sports car under the NSX. He, however, pointed out that such a car won't be appearing before 2017. So, is 2018 is just about right?
What we can assume is that the new S2000 roadster will have a slightly detuned version of the Civic Type R's 2.0-liter turbo engine, which is made in the US. The car will be, too, apparently. And to keep costs down, Honda will build it along the NSX at its specialized Performance Manufacturing Center in Ohio.
Sources said a large team from the R&D staff in Japan are now in Ohio to work on the roadster.