Is the Sunroof on Your Car Really Safe?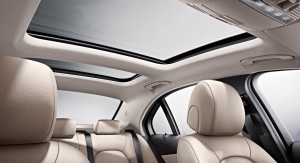 For some, the sunroof on the car can be considered as a luxury feature. Most premium models of different automakers offer them either as an optional add-on or as a standard fit in their top trim units. While the sunroof allows a breeze of fresh air into the cabin of the auto as well as a nice view of the sky, statistics indicates that these also pose hazards to the occupants of a vehicle.
According to Consumer Reports, there have been many documented cases in the U.S. of exploding sunroofs. The National Highway Traffic Safety Administration recorded at least 859 complaints connected to shattering sunroofs from 1995 to 2017. Most incidents occurred within the first two years of the vehicle's ownership.
Hyundai had the most number of exploding sunroofs over the last 22 years. The brand had 119 complaints over the course of the research. It was followed by Ford with 85, Nissan with 82, Kia with 78, Scion with 72, Toyota with 61, Honda with 53, Volkswagen with 38, Cadillac with 28, and BMW with 27 cases.
In terms of car model, the Scion TC topped the list with 71 complaints. The Hyundai Veloster came next with 54, Kia Sorento with 43, Nissan Murano with 28, Kia Optima with 25, Ford Explorer with 23, Honda Accord with 22, Cadillac SRX with 22, Nissan Maxima with 20 and Hyundai Santa Fe with 20 cases.
What was very alarming about the data was that most cases didn't even involve rollovers. Complainants claimed that their sunroofs just exploded out of nowhere and without anything hitting them.
Consumer Reports said that safety standards with regard to sunroofs are currently not at pace with their longer and wider designs. Experts stated that the bigger the expanse of the glass in the sunroof, the higher is its likelihood to break.
Since Hyundai had the most recorded cases, its aftermarket parts subsidiary Hyundai Mobis unveiled its panorama sunroof airbag. The company told in a interview that it has a deployment time of only 0.08 second. However, the airbag only activates during rollovers. Therefore, it is not clear if it can solve the issue centered on sunroofs suddenly exploding even without anything hitting them.