Jaguar XF Sportbrake Comes At A Lower Price Tag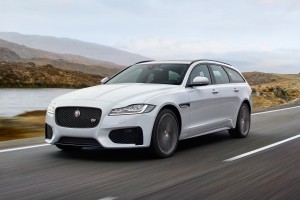 Those who want to own a Jaguar but cannot afford its skyrocketing price tags will have the chance through the Jaguar XF Sportbrake, which will be valued at a reasonable price of just $48,770. That's pretty low for a car bearing the Jaguar name.
If you want the wagon counterpart, you'll have to shell out a lot more. The wagon version will cost a whopping $71,445 since it will only come in two high-equipment trim levels. No base model for this variant, unfortunately.
In the "near future," Jaguar Land Rover North American CEO Joe Eberhardt said that Jaguar enthusiasts can have the XF Sportback on a more reasonable price range. There are plans to produce more variants of the mid-size luxury wagon.
There are no exact details yet about the XF Sportbrake, but all we know is that the wagon will have the most powerful and expensive powertrain in the XF lineup—that's a supercharged V-6 engine paired with an all-wheel-drive system and can power up the vehicle up to 380 horsepower.
To bring the cost down on the XF Sportbrake, Jaguar would have to use its new Ingenium turbocharged four-cylinder engine. For the sedan, the gas-powered four-cylinder will be available in two power capabilities—one producing 247 horsepower and the other churning up 296 horses.
You may also opt for a diesel engine that produces 180 horsepower on a turbocharged four-cylinder as well.
But if you've got the money to spare, you can wait for Jaguar's flagship XJ and compact XE sedans. These are going to be a handful in the price department, though, since the tags are well north of $100,000 each.
The XJR575, which can produce 575 horses, will go on sale later this year for $123,395. Aside from that, the full-size luxury sedan will also have an additional 105 horsepower over the next XJ model—the XJ Supercharged. The difference will allow the XJR575 to reach 186 mph. the XJ Supercharged an only do a measly 155 mph.