James Murdoch In Line To Replace Elon Musk As Tesla Chairman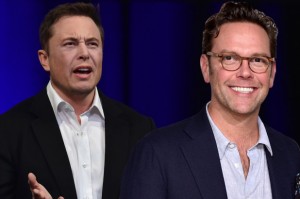 Outgoing Twenty-First Century Fox Chief James Murdoch is the leading contender to replace Elon Musk as Tesla chairman. The leading electric car manufacturing company was given until November 15 by the Securities and Exchange Commission (SEC) to replace Musk as chair.
This came after a settlement between Musk and SEC following the Tesla's CEO's tweet last August that he had secured funding to take the company private. The SEC said the statement was fraudulent but together with Tesla and Musk, the parties agreed to allow the billionaire to continue in his capacity as Tesla CEO but not as chairman of the board. The SEC also imposed a $20-million penalty fee on each party.
According to a report on the Financial Times, two people briefed on the internal discussion in Tesla said Murdoch, the son of controversial media mogul Rupert Murdoch, was the lead candidate for the role. As a non-executive director at Tesla, Murdoch fits the bill that SEC requires—an independent chairman. The report from the Financial Times, however, said external options are still being considered because there were some disagreements among the board members.
Musk initially did not comment on the issue about Murdoch's takeover but he replied with a terse tweet to an FT post on Twitter. "This is incorrect," he said of the post about Murdoch's candidacy. Asked further for comment, Musk did not respond.
Musk is known to favor Antonio Gracias, another independent director, but he has been advised that Gracias may not exactly be independent because of his investments in Musk's other companies, more specifically the Space X, a rocket business.
Earlier this year, leading US proxy advisers Glass Lewis & Co and Institutional Shareholder Services, and union-affiliated investment adviser CtW Investment Group, recommended that investors cast votes "against" Murdoch during Tesla's annual meeting on June 5.
Both proxy firms are worried that Murdoch is serving on too many boards and that he lacks experience in the car manufacturing industry.
Murdoch, who signaled he wants the job, will soon step down as chief executive of the 21st Century Fox and News Corp after it completes the sale of its entertainment assets to Walt Disney. Reports said he is considering setting up a technology investment firm, making the job at Tesla incredibly alluring.