Jeep Adds $750 To The Price of The 2018 Wrangler JL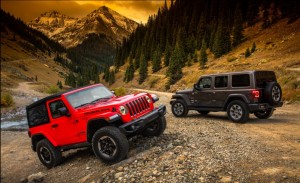 Like a thief in the night, Jeep quietly raised the price for its all-new 2018 Wrangler JL by $750. The news came out just after Jeep released its February sales report, which showed a 17 percent increase on the sale of the Wrangler compared to the same period last year.
The report said that Jeep was able to sell 15,936 units of the off-road-oriented midsize SUV for the month of February. This boosted, of course, the moral of Jeep to actually increase the price of the Wrangler JL. There will be a $500 add-on to the price of every Wrangler model with the $250 being charged as the SUV's destination fee.
Because of this, the cheapest Wrangler JL that customers can get their hands on will be priced $28,940. If you want a Jeep Wrangler, but don't exactly want to shell out for the prices of the current generation, you can still get your hands on the 2018 Wrangler JL's predecessor. Jeep is still selling the Wrangler JK at $25,440 after Jeep, same with the JL, added a $250 destination charge.
Even before Jeep decided to cash in on the rising popularity of the Wrangler JL, people already found the model too pricey for their liking. Still, that didn't stop fans and enthusiasts of the model to dip into their pockets and place their money for GMC to swipe.
You can't really blame GMC to wanting to rise the prices for the JL. Both Mercedes-Benz and Toyota are selling similar off-road vehicles for more than double the price of the Wrangler JL. Does that mean the JL has cheaper specs and materials? Definitely, no. But, it does show you just how much these vehicles really cost. The luxury vehicles, G-Class and Land Cruiser, are both doing well in sales, so the $750 price increase may not affect Wrangler's sales, after all.