Jeep Yuntu Production Version Spied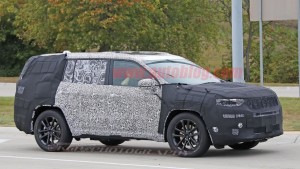 Last April, automotive fans were treated to the unveiling of the Jeep Yuntu concept vehicle at the Shanghai Auto Show. The auto features a hybrid powertrain with a lot of passenger capacity. Recently, a camouflaged prototype of the SUV's production version was seen while it was undergoing testing at a Fiat Chrysler Automobiles facility.
Design is Very Much Like the Concept Model
Looking at the spy shots shown by Autoblog, the prototype for the Jeep Yuntu production version appears to remain true to its concept form. The shape of the spied auto's roof, hood, doors, grille and rear are very much similar to the unit displayed in Shanghai.
The Yuntu boasts a long wheelbase. It utilizes a stretched version of the Cherokee's Compact U.S. Wide (CUSW) platform. Then, it offers three-rows of seats that can accommodate up to seven people.
It is definitely a large SUV. However, judging from the prototype's low approach and departure angles as well as the choice of  wheels, it looks like it is not built for serious off-roading.
Is It Keeping the Hybrid Powertrain?
So far, we are quite unsure yet if the prototype we are seeing here is equipped with a plug-in hybrid powertrain like its concept variant. It should be noted though that the Yuntu is initially planned as a China exclusive product of Jeep. If that's the case, it might get a hybrid setup afterall in order to go in line with the Chinese government's goal of curbing pollution in the country.
It is hard to make out what is inside the vehicle too, but it is expected to remain faithful to its preview in China, which shows a futuristic approach. It should be recalled that the interior of the concept version of the vehicle is adorned with LCD screens behind its seats and in the dashboard.
Jeep Yuntu Spy Photos
Check out the new spy shots of the Jeep Yuntu prototype in the gallery below: