John Cena and Ford Settle a Lawsuit Over Breach of Contract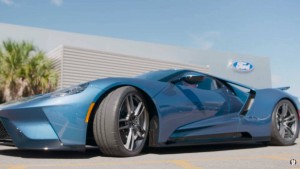 WWE superstar John Cena and Ford have finally settled their lawsuit. The wrestler was ordered to pay an undisclosed amount of money to the automaker.
According to Motor1, Ford filed a lawsuit against Cena for selling his Ford GT before the 24-month required ownership was over. The American car maker agreed that the money received from Cena for the lawsuit will be donated to charity.
Cena pointed out that he loves the Ford GT and apologized to the American automaker. In a statement, he encouraged everyone who owns the same car to honor the stipulations in the contract saying that they could not sell the auto for 24 months after they received it. The wrestler also said he was pleased that the two camps were able to settle the matter outside the court, and that a "worthy charity" will benefit "from one of the most iconic cars in the world."
The Ford GT only had an initial run of about 500 units. Ford individually selected applications to own the Ford GT. One of the approved buyers was Cena. The American car company received about 6,506 applications for the initial run of the car. But part of the contract clearly stipulated that the owners have to keep their Ford GTs for 24 months as a way to limit the access to the car in the secondhand market.
The wrestler paid $460,000 for his GT, which included $5,200 worth of options such as the Liquid Blue exterior paint and leather-wrapped steering wheel.
Ford filed the lawsuit back in November and requested $500,000 for breach of contract. Cena's lawyers asked for the suit to be thrown out because the 24-month stipulation was not on all the contracts their client signed. The lawyers argued that the clause was part of the order confirmation but it was not present in the final purchase order.
The contentions of Cena's lawyers did not hold and the wrestler was ordered to pay up. It's not clear whether the settlement included the whole amount requested by Ford.
The wrestler already owns a 2006 GT, so it's not clear why he decided to sell his new sports car over the old one.