Kia Plans To Introduce Turbocharged Kia Soul Hatchback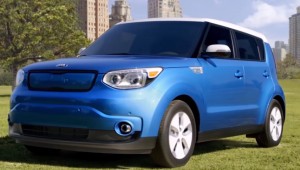 Kia Soul has been highly popular the past years. Although I am personally not a fan of the bodystyle and there are extreme reactions to it among the auto industry experts, it was certainly one of Kia's most popular models.
In fact, the only thing more popular than the Soul is the commercials Kia has produced for the incoming hatchback. Aside from the catchy hit songs that they used, the commercials also featured hamsters (which Kia tagged as Hamstars). Can anything be cuter than that?
The latest commercial is now out and it's full of the same things—catchy song and Hamstars. But what specifically is being talked about right now is the "wink" at the end of the commercial, hinting of the possibility of a turbocharged Soul hatchback.
An overview of the current Soul lineup was also shown at the end of the video. The lineup included the regular gasoline-powered model, the electric model and a "turbo" version. Kia teased that all of these will be arriving just in time for Winter 2016.
We've heard rumors that Kia has been planning a turbocharged Soul hatchback for years. So far, this is the first evidence of those plans, and it's just in time for a change in the Soul's performance and power.
As for the bodystyle, many experts have always raved about the Soul's standout styling, roomy interior and useful in-car technology. That's not to mention that the Soul is nicely priced.
But what it does lack is more power and better performance on the road. The current Soul has either a gas-powered 130-hp 1.6-liter or a 164-hp 2.0-liter four-cylinder engine, the latter offered only with automatic transmission.
What are we expecting? Kia currently has a 201-hp 1.6-liter turbo four on the Forte5. If that would be used to turbocharge the hatchback, we're sure it will add a bit of pep, complete with either a manual or dual-clutch auto transmission.