Kia Soul EV Gets 250-Mile Range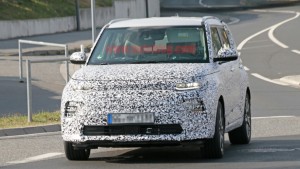 The upcoming Kia Soul EV is expected to average at least 250 miles on a single charge. A prototype for the car has been spotted testing once more at the Nurburgring track where it now wears significantly less camouflage, revealing a shape that is similar to the Kia Soul prototypes we have seen.
On the infotainment display, the Soul EV showed that it has a charge of 92 percent and an estimated range of 437 kilometers or about 271 miles. That keeps up with the European range estimate for the Hyundai Kona Electric, which was 292 miles. It's not sure if the same range will be carried over to the US version of the car but since the Kona was rated only for 258 miles by the EPA, we expect the same figures for the Soul EV.
There's no information yet on how much power the Soul EV is going to produce but based on the range, it looks like the upcoming EV is getting the same 201-horsepower electric motor that's in the Kona and the Niro EV.
On the outside, the Soul EV has a boxy shape, boomerang-shaped taillights, and full-width headlights of the gasoline models. There are a couple of differences between the gas-engine Soul and the Soul EV such as the lower light pods possibly reserved for accent lighting, turn signals, or fog lights and the small opening at the bottom (instead of the large lower grille on the gas models).
The spy photos also showed the car's interior, which is almost similar to the current model except for the revised infotainment system with a wider screen and buttons placed underneath. It also has a rotary knob for shifting while the instrument panel shows a speedometer and a dial. Inside, the door panels have metallic trim with patterns.