Lamborghini Huracan Joins Italian Police in Fight Against Crime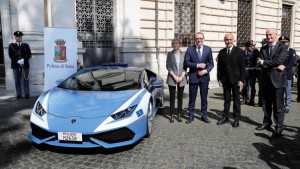 Lamborghini is truly one of Italy's pride in the automotive world. Recently, the Italian Police got themselves a new Lamborghini Huracan LP 610-4 to aid them in their fight against crime around the Bologna region.
For some, the supercar might be too much for a law enforcement agency. First, it is too expensive because of its $200,000 price tag. Second, its 610 hp output is just overrated.
Then again, BBC claimed that the vehicle is a gift from Lamborghini to the Italian Police. So who in their right mind would turn that down? Moreover, in a police's line of work, speed is definitely of the essence.
The Lamborghini Huracan can reach a top speed of 325 km/h. The one given to the police is equipped with state of the art technology to enhance its navigation, communication and security features.
The special car's main features include a police radio, tablet computer, firearm holster, fire extinguisher, hand-held devices for directing traffic and video camera. It is also packed with medical kit for first aid and refrigeration system in its trunk for transporting human organs.
The exterior of the supercar gets a medium blue paint finish with white accents. The paint follows the official colors of the Italian police. A police siren sits on the roof of the car and its sides are marked with "Polizia". It is fitted with P Zero Pirelli tires to complement its very sporty appeal.
It should be noted that it isn't the first time for Lamborghini to donate one of its creations to the police force. Three years ago, the company gave the agency a Lamborghini Gallardo, which is the Huracan's predecessor.
The head of the Italian State Police, Alessandro Pansa, took the delivery of the new Huracan. "This Lamborghini represents Italy and the quality of its people," he said. "The same we find in both men and women who wear the uniform of the State Police," he added.
Photos
Check out the photos of the new Lamborghini Huracan police car in the gallery below: