Lamborghini Reveals £1.7m, 760bhp Centenario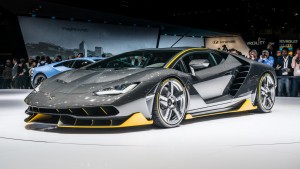 To celebrate its 100th year anniversary of founder Feruruccio's birth date has its perks: Lamborghini as just revealed its most powerful machine to date—aptly titled the Lamborghini Centenario.
According to Top Gear, this is a limited edition supercar that is built entirely from carbon fiber. It packs a 760bhp V12 and enough aero cues that pay homage to the legendary Italian on whose name the company stands. The Centenario just debuted at the Geneva Motor Show, and some reports were saying it even stole the show from the Bugatti.
The Cententario is based on the Aventador, although it is slightly longer than the 740bhp SV version. On the front bonnet, you can find large air scoops in reference to the sports cars of the 1970s.
Even the headlights got air ducts, as well as the side skirts and wheel arches, which will all supposedly provide air flow to the rear radiators. The roof is a beauty on its own. Using the most important element of aeronautical industry, this supercar has a hexagonal carbon fiber air duct on top.
But the roof is not the only place where carbon fiber was utilized. Lamborghini is making use of carbon fiber on the entire body and even the monocoque chassis to allow for the lightweight material to boost the car's superfast capability.
The front splitter, side skirts, wheel arches and rear diffuser are all colored in matt carbon, too. During the Geneva Motor Show, the Lamborghini Cententario was launched in gloss carbon (though you can pick a color you want if you're going to get your hands on this). The Centenario weighs in at 1,520kg, making it 55 kilos lighter than the Aventador.
There's also an extendable rear wing, extending out 150mm and 15 degrees during "high performance conditions."
Lamborghini is only making 20 coupes and 20 roadsters, meaning only 40 people have the Centenario. These 40 units have already been sold even before the motor show started. The price is €1.75m plus tax, which is around £1.7million including VAT.