Land Rover Announced Updates For The Range Rover Velar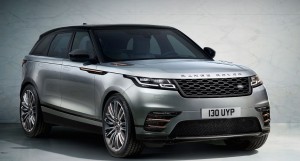 Land Rover is updating its Range Rover Velar for 2018 with a fresh six-cylinder diesel engine and a slew of enhanced driver assistance and safety features.
The new D275 will bring a 3.0-liter V6 diesel option for customers producing 271 horsepower and 625Nm of torque. Those who will opt for the engine will also get to carry the D275 badge. No performance figures or fuel rating has been revealed, but Land Rover claims that the new engine will be capable of delivering 42.8mpg with CO2 emissions of 175g/km.
Aside from the new engine, all other petrol and diesel units will be fitted with new particulate filters. The P250 and the P300 models are both going to have a larger, 83-liter fuel tank.
The Velar is already fitted with a number of driver assistance technology, but even this has been updated with the Steering Assist and Lane Centring, allowing the vehicle to maintain a steady path when driving in a single lane. This Steering Assist feature works at speeds of up to 111mph.
In the new models, all will come standard with a rear camera, front and rear parking aids, driver condition monitor, emergency braking and lane keep assist. Also updated is the forward collision detection system, which can now work between 6pmh and 99mph to alert the driver to potential hazards. It will also be able to apply the brakes automatically during a critical situation.
All Velar models will be fitted with coil springs as standard. Four-corner air suspension will be an option on V6-powered models, as well as in the four-cylinder D240 and P300 cars. Other features to be expected are adaptive dynamic damping, scanning wheel and body movement.
The Kvadrat-made Premium Textile interior is available across the Velar range, not reserved anymore for top-end models. The D275 is on sale now for $67,293.