Land Rover Defender Will Make Comeback, Thanks to Chemicals Tycoon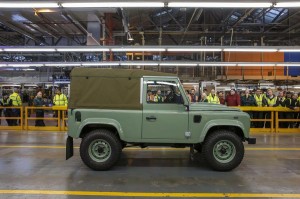 Six months after the Land Rover Defender rolled off at the company's Solihull plant, it looked like it will be making a comeback, thanks to investments from billionaire Jim Ratcliffe.
The billionaire businessman, who is a chemical tycoon, is reportedly in talks with Jaguar Land Rover in hopes of resurrecting the model. It is still not clear if Ratcliffe is interested in buying the intellectual property of the model or parts of the production line.
According to The Sunday Times, the billionaire's dream is to build the Defender in the United Kingdom. There are no details from the two sides about the negotiations.
Ratcliffe, the founder of Ineos, a £3.2-billion company, might move into producing vehicles as evidenced by his interest on the Defender. Talks with Land Rover only proved earlier reports that Ratcliffe is looking to venture outside the chemical industry, where he made most of his fortune.
It can be remembered that Land Rover stopped the production of the 66-year-old Defender earlier this year because of increasing stringent emissions requirements, as well as modern day crash regulations and low volume sales.
The next-generation model of the Defender is reportedly due in 2018 and 2019. Apparently, it will have two wheelbases and several bodystyles.
Meanwhile, Jaguar Land Rover said the opening of its new £20-million Special Vehicles Operations (SVO) Technical Center will allow for the development and production of SVR models. The company plans to make the center the birthplace of SVR models from now until 2020.
Currently, the division has three models—the Range Rover Sport SVR, the Range Rover SVAutobiography, and the Jaguar F-Type SVR. It is planning a fourth model, a Land Rover model, which will be due before this year ends.
According to Land Rover Managing Director John Edwards, the facility was inspired by a Formula 1 engineering center.